EuroPark Estonia – is a company with a well-deserved reputation, possessing an excellent (AAA) cumulative rating in terms of economic and financial indicators, as well as payment discipline.
Together with international Creditinfo Group Creditinfo Eesti AS recognizes successful enterprises of Estonia, whose economic standing according to the Creditinfo rating are excellent (AAA), very good (AA) or good (A).
In recent years EuroPark Estonia OÜ has reached the AAA credit rating, which demonstrates the company's good economic position, excellent financial results and proper payment discipline. Creditinfo rating is developed on the basis of international models and is also accepted outside of Estonia.
The image illustrating the rating shows the distribution of Estonian enterprises by the rating categories for comparison purposes.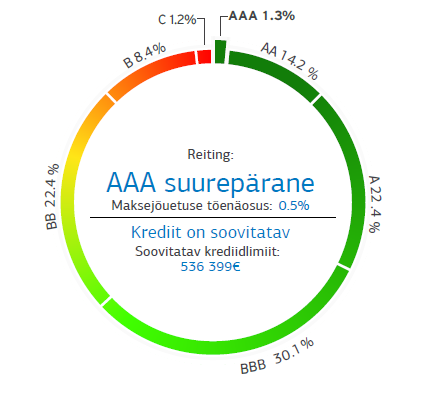 For achieving such a high credit rating, we must thank our remarkable experienced employees and – of course – our excellent customers! The number of EuroPark customers is growing every year. This is the recognition of the fact that we provide people with a necessary service of excellent quality.
EuroPark Estonia OÜ
Successful Estonian Company 2017